Modules

In Modules you have (similar to the Overview) access to all functions of the Ashampoo WinOptimizer 9. Below the modules will be described shortly. For more information just click on the link to the appropriate topic.
The Modules – An overview

Maintain System
One-Click-Optimization: Ashampoo WinOptimizer 9 optimizes your complete Windows® with only one click. If you use the default options, the functions Drive Cleaner, Registry Optimizer and Internet Cleaner are executed automatically.
Drive Cleaner: Optimizes your hard disk drives and gets rid of generally redundant files.
Cleanup your registry with Registry Optimizer: Cleans up unnecessary entries in the Windows® registry. See also the chapter The Windows® Registry
Cleanup your Internet files with Internet Cleaner: Cleans up the temporary files and "data trail" left when surfing the Internet.
Defrag 3: This is the ultimate option for a simple and efficient defragmentation of your hard drives.
Registry Defrag: Optimizes and defragments the Windows® Registry
Improve Performance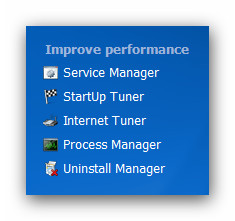 Service Manager: Is a service unnecessary, necessary or absolutely essential? Benefit from user and developer experiences!
Control the system startup with the StartUp Tuner: Disable annoying and malicious programs that waste your system resources.
Faster, smoother and snappier internet surfing with Internet Tuner: Optimizes your Internet connection for faster, more efficient performance.
Process Manager: The Process Manager is an essential tool for dealing with badly-behaved programs.
Uninstall Manager: Uninstall Manager helps you to manage installed applications on your computer and to easily uninstall applications.
Customize Windows
Tweaking: A control center for adjustment of your Windows® system settings.
AntiSpy: This module helps you to keep data on your computer to keep data private.
File Associator: Which application opens a certain data format? Decide which software opens for example your images or films.
Context Menu Manager: The new Context Menu Manager enables you to view and manage the contents of right-click context menus in Windows, giving you full control.
Icon Saver: Saves and restores the arrangement of your desktop icons. Even if the resolution was changed or new drivers were installed, you can still recover the former layout of the icons.
File Tools
File Wiper: Delete files forever with File Wiper. It permanently removes files and folders so that they cannot be restored.
File Encrypter & Decrypter: Fast and safe security for your important files with the highly-efficient blowfish-algorithm.
File Splitter & Joiner: Enables you to split large files into smaller parts. Later you may join or respectively reassemble the the smaller parts back into the original file.
Undeleter: Allows you to recover files which were already deleted.
Analyze system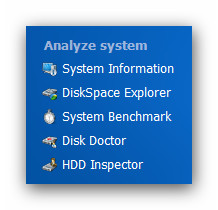 System Information: Shows detailed information on hardware and software.This information is helpful for error checks and support features.
DiskSpace Explorer: Analyzes and displays how the space on your hard disk is used. The information can be sorted dynamically and displayed in graphs.
System Benchmark: The System Benchmark module tests the processor (integer and floating point) and memory performance of your system and compares the result with the performance of reference systems.
Disc Doctor: Disc Doctor allows defective sectors to be repaired, including damaged MFTs (Master File Tables). It also allows you to recover lost data.
HDD Inspector: analyzes the S.M.A.R.T. values of your hard disk drives and thus allows a statement about the "health" and possible problems of the hard disk drives in your system.
General
Backup Management With its help you can easily undo all important changes in the system settings or in the registry. The tool itself realizes whether a backup is appropriate and creates one with a short description and the creation date.
Tuning Assistant This assistant finds the best optimization options for your PC with the help of a few simple questions.
Taskplaner The Ashampoo WinOptimizer 9 can perform tasks automatically. If you want to defragment your hard drive or run the One Click Optimizer, you can do this very comfortably by setting tasks.
Settings Here you find many configuration options with which you can individually configure the behavior, appearance and security settings of Ashampoo WinOptimizer 9.
Functions at a glance